Save $800 on Kirkpatrick Certification in March
Looking to show the value of your most important programs and initiatives? Want to learn from the best in the industry? Get Kirkpatrick certified!
In bronze level certification you learn the true Kirkpatrick Model and create a four levels evaluation plan for a real program.
In silver level certification you learn how to gather and analyze real-time data, so you maximize program outcomes and report results stakeholders care about.
Hurry! Save $400 off each program, for a total savings of $800, but only until Monday, February 13.
How to Redeem Your Savings
Enter promo code 23X31XXS in the box at the top of the registration block.
Click apply.
Early bird price (and all prices) will be reduced by $100.
Early bird price will be $400 off the regular price until February 13, 2023.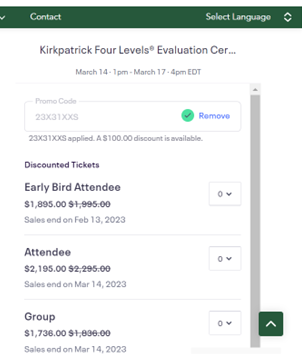 Need assistance? Contact us.